Spanish princess to appear in court on tax fraud charges
Comments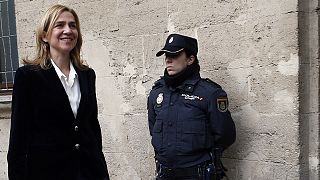 Spain's Princess Cristina is due in court in Mallorca on Monday in connection with tax fraud charges in a case that has embarrassed the country's royal family.
The king's sister is one of 18 defendants appearing before a judge at a special court in the island's capital Palma.
The princess is being privately accused being an accomplice to tax fraud along with her husband Inaki Urdangarin, a former Olympic handball player, who is also one of the defendants.
Along with his business partner Urdangarin ran a charitable sports foundation that was allegedly used to win falsely inflated contracts to host events from regional government bodies in Spain, diverting the money to personal accounts in tax havens.
The princess, who denies any wrongdoing, will be the first member of the Spanish royal family to face criminal charges since the monarchy was restored in the 1970s after the death of Franco.
The case has attracted the attention of hundreds of journalists in Spain and abroad who have flown into Palma to cover the trial.
The case was originally launched in 2010 by a judge investigating corruption among Balearic Islands officials including the former president.
Last year, King Felipe stripped his sister of the title of Duchess of Palma, but she remains sixth in line to the throne.