North Korea claims hydrogen bomb test
Comments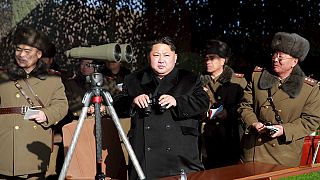 North Korea claims to have carried out its first successful test of a miniaturised hydrogen nuclear device.
The announcement on North Korean state television followed the detection of a 5.1 magnitude earthquake at the Punggye-ri site in the north of the isolated country. It's where Pyongyang has conducted nuclear tests in the past. Several international monitoring agencies recorded seismic activity in the area including the United States Geological Survey.
North Korea which is under UN sanctions for its nuclear and missile programmes has so far conducted three tests. The last was in 2013 raising fears that the ultimate aim is to produce a device small enough to fit on a long range missile.
In response to the latest suspected nuclear activity South Korean ministers are to hold an emergency meeting while Japan says it will not tolerate North Korea's nuclear testing . The UN Security Council is expected to meet to discuss North Korea's test later today ( Wednesday Jan 6)
North Korea nuclear tests
2006 First test based on plutonium.
2009 Second test said to have been more powerful than the first. Also carried out underground although no details of location.
2013 Third underground test – seismic activity detected near Punggze-ri test site.
North Korea tests hydrogen nuclear device, causes 5.1 magnitude earthquake
https://t.co/mZOPHPn03Jpic.twitter.com/FWIVc8XWMb

— India Today (@IndiaToday) January 6, 2016
PHOTO: North Korea at night, from space. pic.twitter.com/VsivbeQGfV

— The Int'l Spectator (@intlspectator) January 6, 2016