UN Security Council to meet after North Korea claims H-bomb test
Comments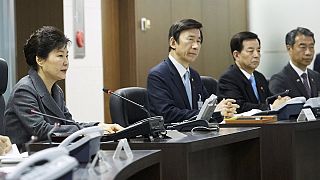 A chorus of international condemnation has followed North Korea's claim to have successfully conducted its first H-bomb test.
Chairing a National Security Council Meeting, South Korea's President Park Geun-hye said Seoul would take action, including possible UN sanctions, to ensure that its reclusive neighbour pays the price.
If the test's success is confirmed, she said:
"It could shake Northeast Asia's security landscape and fundamentally change the nature of the North Korean nuclear issue.
"So now our government has to take decisive measures against any additional provocations by North Korea and work with the international community to make sure the isolated country pays the price for its latest nuclear test."
South Korean intelligence officials and several analysts however questioned whether Wednesday's explosion was indeed a fully-fledged test of a hydrogen device.
Experts cast doubts on North Korea's hydrogen bomb test claims https://t.co/drCz5YBbsp

— The Independent (@Independent) 6 Janvier 2016
In Tokyo, where the test was denounced as a threat to Japan's security, Prime Minister Shinzo Abe addressed parliament.
"Japan will firmly respond to this, including at the UN Security Council, in cooperation with the United States, South Korea, China and Russia," Abe said.
Even North Korea's main ally China said it was lodging a protest with Pyongyang.
If test reports are true, British Foreign Secretary Philip Hammond said that North Korea would have committed a "provocation which I condemn without reservation" .
Hammond tweeted the statement during a two-day trip to Beijing.
If North Korean H-bomb test reports are true, it is a grave breach of #UNSC resolutions & a provocation which I condemn without reservation

— Philip Hammond (@PHammondMP) 6 Janvier 2016
The UN Security Council was set to hold an emergency meeting later on Wednesday.
Efforts could follow to expand existing sanctions against North Korea.