North Korea: Kim Jong Un warns Seoul in New Year message
Comments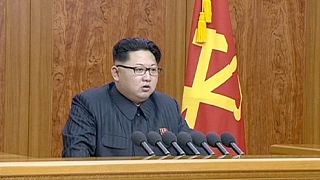 North Korean leader delivers New Year message
Talks of "ruthless holy war"
No mention of nuclear arms or programme
The leader of North Korea has blamed the South for increasing mistrust on the divided peninsula.
We will respond firmly in the style of a ruthless holy war for justice and unification
Kim Jong Un's New Year speech came after a year of heightened tension between Pyongyang and Seoul.
With canned applause, Kim Jong-un delivers New Year's message to North Korea. https://t.co/QF2MsiZK30pic.twitter.com/TNV91wjGLh

— Jim Roberts (@nycjim) 1 Janvier 2016
Unification a "retrograde step"
"The South Korean authorities have made a unilateral case for unification and increased mistrust and conflict between us. This is a retrograde step for the North-South talks as well as the mood for improving inter-Korean relations," he said.
The speech is Kim's fourth since becoming leader in 2011 when his father, Kim Jong Il, died.
Border explosion
In last year's speech, Kim said he would be open to a summit with Seoul.
But tension surged after two South Korean soldiers were killed in an explosion on the border last August. Both sides blamed each other.
North Korean representative tells reporters that the border mine explosion that set off recent tensions was a conspiracy by South Korea.

— Samuel Oakford (@samueloakford) 21 Août 2015
"Holy War"
Kim said South Korea should cherish last year's high-level talks and make continued efforts to seek dialogue.
"We will absolutely not accept it if we are bothered by invaders and agitators, even in a minor way. We will respond firmly in the style of a ruthless holy war for justice and unification."
Applause was played at various points throughout the message, which appeared to be pre-recorded.
Like North Korean leaders over the decades, Kim pledged to develop Pyongyang's struggling economy and raise living standards.
The impoverished state is under heavy UN sanctions relating to its nuclear and missile programmes, which Kim did not mention in his speech.