Iraqi army declares Ramadi 'liberated' from ISIL militants
Comments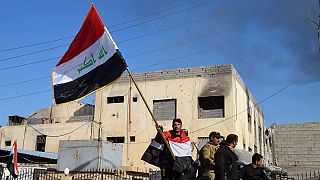 Iraqi troops have raised the national flag above the main government complex in Ramadi, declaring total victory over ISIL in the war-ravaged western city seized by the extremists in May.
Yes, the city of Ramadi has been liberated
That was a humiliating defeat for Iraq's military but now it is keen to show the tables have turned with a spokesman going on state television to declare that Ramadi has been 'liberated'.
"Yes, the city of Ramadi has been liberated. The Iraqi counter terrorism forces have raised the Iraqi flag over the government complex," joint operations spokesman Brigadier General Yahya Rasool said.
Other sources however are more cautious – warning of pockets of ISIL resistance.
After encircling Ramadi for weeks, government forces, backed by US-led air strikes, have waged a house by house campaign through booby-trapped streets.
Iraqi forces uncover Islamic State 'bomb factory' near Ramadi https://t.co/oJszssLPSspic.twitter.com/1tS021c4vv

— The Telegraph (@Telegraph) 28 Décembre 2015
Unlike other battles, Iranian-backed Shi'ite militias have not helped Iraqi troops – so as to avoid sectarian tension with Ramadi's mainly Sunni population.
The government, led by a Shi'ite Prime Minister, Haider al-Abadi, has said Ramadi would be handed over to local police and a Sunni tribal force once it was secured, a measure aimed at winning over Sunnis to resist ISIL.
The government says its next target will be to free the northern city of Mosul from ISIL rule.