ISIL shrugs off losses, boasts resilience, goads Israel
Comments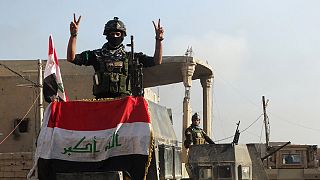 Desolation and destruction contradict the latest statement by the leader of the radical Islamic State movement (ISIL)—destruction such as seen in Sinjar, in Iraq, a strategic city held by the group until Kurdish fighters retook it in November.
Is there a link between ISIL's losses and the air strikes against it?
At least one analyst says that when the group's leader, Abou Bakr al-Baghdadi, broke a seven-month stretch of public silence on December 26th to issue an audio message, it had a clear propaganda aim.
"Our state is doing well," he said. "The more intense the war against it, the purer and tougher it becomes."
His claim "doing well" is disputable.
On Sunday, nominally democratic Syrian forces retook a key dam on the Euphrates River, around 20 km from ISIL's self-proclaimed capital, Raqqa, with western-led coalition air support. Added to ISIL's loss of Sinjar, movements on the ground suggest the opposite of what Baghdadi is claiming.
Security researcher Husham al-Hashimi says: ''The heavy losses inflicted on ISIL prompted Baghdadi to deliver that statement to raise his fighters' morale and urge them to be patient."
So the demise of ISIL cannot be taken for granted. In spite of the organisation losing ground, it still occupies territory with nearly eight million inhabitants. As combatants are killed, new ones join its ranks. Threat propaganda has always been a choice weapon.
Baghdadi said: "So the US, Russia, Israel, Europe, the Shia Rafida and apostates are waiting; well, we are also waiting—ready."
According to Hashimi, there is nothing new from Baghdadi except it is the first time he has threatened Israel in his statements.
ISIL's unending recruiting drive offsets the risk of added reprisals with a threat like that.
Air strikes might weaken it, but regenerating soldier-power means it can swing back on the offensive and make up lost ground.