Greece votes for same-sex civil partnerships
Comments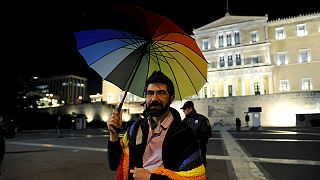 Greek lawmakers have voted to extend civil partnership agreements to same-sex couples with 193 of the country's 300 parliamentarians supporting the bill. The new law comes seven years after similar agreements were allowed for heterosexuals.
Prime Minister Alexis Tsipras said the passage of Tuesday's bill was overdue and called for an apology, rather than celebration:
"This is the end of a cycle of backwardness and, allow me the expression, also of a cycle of shame for the Greek state, that has even led to a conviction by the European Court of Human Rights."
The court ruled in 2013 that the exclusion of same-sex couples from the 2008 bill was discriminatory.
Supporters of the new law held a kissing protest outside parliament as the bill was debated.
The new law does not allow same-sex couples to marry or adopt children and does not give them full pension, tax or health rights.
The bill faced strong opposition from political parties and the powerful Greek Orthodox Church. One bishop has vowed to have church bells toll in mourning following the law's passage.