Voting stations prepare for Sunday's election in Spain, the tightest in decades
Comments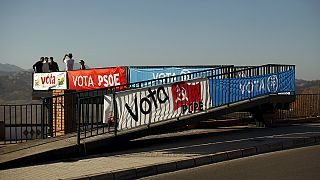 It has been a day of reflection in Spain ahead of the country's tightest election in decades.
As voting stations prepare for Sunday's ballot, there's a ban on political campaigning and opinion polls.
A coalition with new smaller parties could be on the cards, with the ruling conservative People's Party expected to win, but without an absolute majority.
One woman in Valencia said: "The truth is I don't really know (what's going to happen). I think they'll have to form a coalition. But I don't know who will form a coalition with who."
Another voter said: "I think the People's Party will win, with the Citizens party second, and they'll form a coalition, and things will carry on much the same as now."
Experts agree that Spain, which has been struggling economically, is witnessing the end of a long-established two-party system.
And it could give rise to future political uncertainty, with an easy marriage not likely between a mainstream right or left party and a smaller newcomer calling for major change.
A political stalemate is the last thing the country needs as it slowly emerges from recession and struggles to tackle one of Europe's worst unemployment rates.