Mariano Rajoy, Spanish conservative rolls with the punches
Comments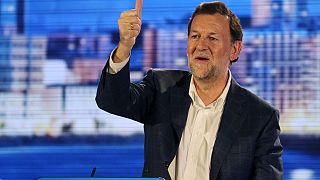 Mariano Rajoy is candidate for his own succession. The least that can be said of the conservative head of the Spanish government is he has got staying power. His four years in office have been tumultuous.
I am an honest politician, at least as honest as you.
Nicknamed 'the perseverant one', in 2011 he led the People's Party to a landslide win over the Socialists.
That image of perseverance reassured many Spaniards threatened by the crashing economy.
Mariano Rajoy then went on to earn the record of most unpopular prime minister in the history of modern Spain, but many still find him reassuring.
Even with an unemployment rate second only to Greece, Rajoy remained in German Chancellor Angela Merkel's good books, defending his reforms and pursuing policies of austerity.
Just before he had been elected, however, austerity and corruption in Spain had given birth to the Indignados (Indignant) movement. On its first anniversary, in May 2012, tens of thousands of protesters gathered in Spanish cities, and marched on parliament in Madrid demanding Rajoy resign over corruption allegations in his Partido Popular.
Just a few days ago, in a live televised debate with an accusing political rival, he still maintained: "I am an honest politician, at least as honest as you, minimum. I have never been summoned to a trial nor accused of mis-appropriating anything."
Just before Spain's latest elections, all the parties condemned a physical assault on Rajoy: a 17-year-old in a crowd punched the 60-year-old in the face. Rajoy was campaigning in his home town of Pontevedra.