Albert Rivera, fresh face of Ciudadanos, influences Spanish unity
Comments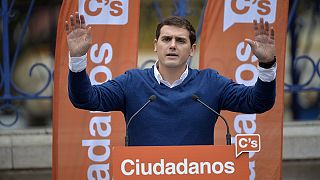 Albert Rivera is perhaps Spain's most palatable politician for the centre-right, a newcomer to national politics.
The 36-year-old lawyer and champion swimmer, after belonging to Nuevas Generaciones, the youth organization of the Partido Popular, founded the party Ciudadanos (Citizens), in 2006.
He told supporters at a campaign rally: "I feel very proud to have been born in Barcelona, politically and physically, in Catalonia, and to stand here in Madrid before the whole of Spain, to say that Spain is going to stay united, that Spain will regenerate, and that we Spaniards are going to stay together."
Rivera's Ciudadanos party is against an independent Catalonia. The party leapt ahead in the municipal and regional elections earlier this year, gaining credibility in the eyes of many voters disappointed with the big parties.
Ciudadanos swept 25 regional seats with its anti-nationalist platform, becoming the biggest party in the opposition in Catalonia.
Rivera does not hide that he would like to be the next prime minister, and has kept his post-election pact-making options open—as a potential kingmaker.