Pedro Sanchez woos Spaniards to vote Socialist
Comments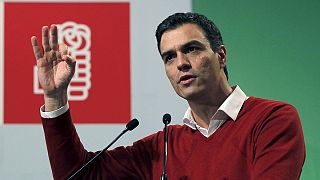 Many supporters of Pedro Sanchez largely forgive his career inexperience in favour of his looks; the leader of Spain's Socialist party (PSOE) just can't shake his nickname, 'guapo' (handsome).
He seduced the party faithful to elect him the head the PSOE one year ago, when he was virtually anonymous to the general public.
Now 43, he's the man who promises to carry the Socialists back into government.
His campaign leitmotif has been, "I want to be the one to send Rajoy into retirement."
Charismatic and unabashed, he tore into the Spanish prime minister in a live televised debate over corruption allegations, which Rajoy denies.
Sanchez said: "If you continue as prime minister… the cost to our democracy and the institution you want to represent is enormous, because the prime minister must be a decent person, which you are not."
A Madrid city councillor and MP, Sanchez cites two mentors: Socialist former prime minister Felipe Gonzales and Italy's current premier Matteo Renzi.
He calls for a new political generation, united around the historic values of the left.