COP21 activists keep hope alive as zero hour arrives for climate deal
Comments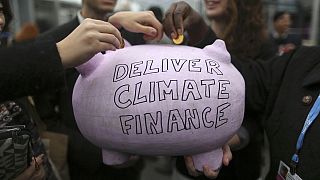 Many activists at the COP21 are now worried that the summit may decide to go for a deal everyone can agree on rather than the deal the planet needs.
That scenario can only be avoided if the heavy hitters step up and throw their weight behind a good deal, as opposed to a watered-down ineffective compromise.
"All the elements for a good deal are still on the table but we have to push hard. This is why we need civil society and NGOs to keep up the pressure. And we need leaders, heads of state not to just observe the COP21 from far away after visiting for just one day. We need them on their phones, making compromises, and sealing the deal so we can move forward," said the World Resources Institute's Pascal Canfin.
This is the 21st time the Conference of Parties has met since the first edition in 1995 in Berlin. In 20 years progress has been snail-like. The hope is Paris will speed the process up.
"If the agreement is taking longer than expected to materialise, optimism and hope still reigns among the stands at Le Bourget. For conference delegates this agreement is crucial as it could be the penultimate draft of the final document before its definitive adoption," says euronews' Grégoire Lory.