Deal or no deal? Crunch week for COP21 climate negotiations
Comments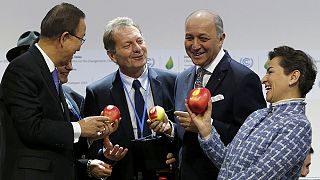 It is crunch time at the COP 21 in Paris – will efforts to reach a climate change deal bear fruit?
As the summit enters its final week, UN Secretary General Ban Ki-moon has warned that the "clock is ticking toward climate catastrophe."
The deadline for a deal is this coming Friday.
"For COP 21, we're embarking on a week of hope. The objective and requirements are clear. We need a universal agreement on climate," said Laurent Fabius, French Foreign Minister, on Monday.
US Secretary of State John Kerry has joined the talks – dispatched to secure a deal meant to cement President Barack Obama's legacy as a guardian of the environment.
Negotiators approved a pared-down draft text at the weekend. Many thorny issues remain, including funding and the monitoring of cuts to emissions.
"The decisions you make here in Paris will reverberate down through the ages. The eyes of the world are upon you," said Ban Ki-moon.
Former California governor and Hollywood actor Arnold Schwarzenegger is also in the French capital – to push for a clean energy deal.
Some form of agreement seems all but certain. But all sides say it will not be enough to stop global temperatures rising past a dangerous threshold of two degrees Celsius.