Climate change deniers 'out of touch with science' says Kerry
Comments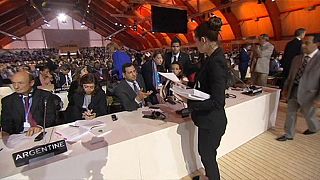 US secretary of state John Kerry said on Wednesday that those who deny the effects of climate change are "out of touch with science."
World leaders at the Paris climate summit are seeking what Kerry described as a "momentum for an agreement that has never before existed."
Delegates have been working towards a deal to keep global warming below two degrees Celsius.
"We are determined, to succeed here in Paris," said Kerry. "And extraordinarily – I've never seen it in my entire time in public life – 140 heads of government all came to Paris on the same day to make clear their personal commitment to a global agreement. They all know, as we do, and they made it clear in their statements here, that we have reached a critical moment. We're seeing momentum for an agreement that has never before existed."
French foreign minister Laurent Fabius, who is also the summit president, said he hopes to secure a final climate deal by a deadline of 6 p.m. CET on Friday (December 11).
As the talks dragged on, dozens of farmers outside French food company Danone protested against corporate agri-business. They say the only sustainable way to produce food is small peasant agriculture.
And at the Louvre Museum, dozens of activists denounced its sponsorship by oil industry giants Eni and Total.