Syria: 40 reported dead in air strikes on market, blamed on Russian jets
Comments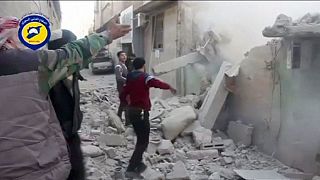 It is claimed Russian jets have struck a market in Syria's Idlib province, with reports of at least 40 people killed.
Witnesses say, in a second, the hustle and bustle of street trading in the rebel-held town of Ariha was reduced to a deadly silence.
Dozens of people are also said to have been wounded.
Officials at the Russian defence ministry could not immediately be reached for comment.
Ariha fell to rebels in May during an advance that resulted in the whole of Idlib province falling to the rebellion against President Bashar al-Assad.
Rebels in Idlib include the al Qaeda-linked Nusra Front. The province is not a stronghold of ISIL that controls wide areas of eastern Syria.
Russia began a major aerial campaign on 30 September to help its ally Assad, who suffered a series of setbacks earlier this year – including the loss of Idlib province and areas near the coast, which is of crucial strategic importance.
Residents and rebels says warplanes, believed to be Russian, have stepped up raids on residential areas in several major cities in northwestern Syria, that are within a radius of 10 to 30 kilometres from the Turkish border.