Turkey warns Russia not to 'play with fire' over downing of fighter jet
Comments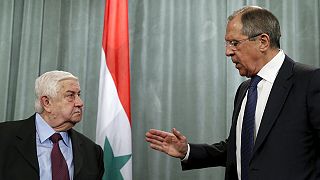 Turkey's president has warned Russia not to "play with fire," as Moscow launches economic retaliation over the downing of one of its fighter jets near the Syrian border.
Turkish food imports are being restricted and scrutinised more heavily. Russia has also announced that it's suspending visa-free travel with Turkey.
Ankara claims the Russian jet strayed into its air space and wants an apology. But Moscow's not giving one and questions Turkey's motives when it comes to Syria.
"We have more and more questions about the real intentions of Ankara and its real commitment to eradicating terrorism, particularly in Syria and its interest in a normalisation of the situation in the Syrian Arab Republic," said Sergei Lavrov, Russian Foreign Minister.
This, as Turkey levels it owns accusations at Moscow over the Syria crisis.
"Supporting state terrorism in Syria, which has claimed 380-thousand lives, is playing with fire. Striking opposition that is acknowledged as legitimate by the international community, with the pretense of striking ISIS, is playing with fire," said Recep Tayyip Erdogan, Turkish President.
Meanwhile, ss the war of words escalates, almost 200 people have taken to the streets of Istanbul to show their solidarity with Turkmen in Syria. They called for an end to Russia's air strikes in Latakia province.