Turkey and Russia trade barbs as tensions mount over downed jet
Comments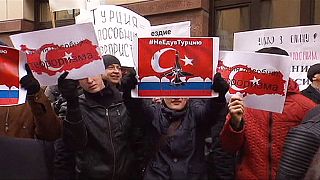 The leaders of Turkey and Russia have been talking tough and trading accusations over the downing of a Russian fighter jet.
The international community has called on both sides to turn down the rhetoric but tensions have risen again after Recep Tayyip Erdogan refused to apologise.
In response, Vladimir Putin took to national television to express his feelings.
"We have not heard either an apology from Turkey's top politicians, or proposals to compensate us for the damage, or a promise to punish the criminals. The impression is that the Turkish leadership is willfully driving the Russian-Turkish relations into a deadlock. We regret it," he said.
Erdogan was equally adamant the fault lies with Moscow: "If the same violation occurs today then Turkey would react in the same
way. The country which violates another should question itself and take necessary to prevent a repetition of the incident."
Russia and Turkey have also traded barbs over who is the real source of power behind the Islamic State militants.
"The terrorists and their illegal trade in oil, drugs and human trafficking were not only covered and are being covered, but some even made money out of that, hundreds of millions and billions dollars," said Putin.
Erdogan was even more explicit in his condemnation: "If you are looking for who's responsible for providing weapons and financing Daesh then the first place you should look is the Assad regime itself and the countries supporting and acting with him."
The fallout from the escalating war of words is also being felt of the streets of both countries where large protests have taken place with people calling on their governments to take punitive measures.