Turkey dismisses Russia's economic threats over downing of fighter jet
Comments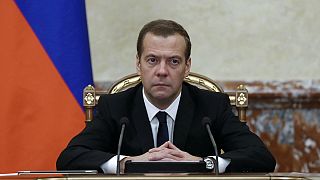 There is an escalating war of words after Turkey's downing of a Russian fighter jet.
Moscow is threatening economic retaliation, something Ankara is dismissing as "emotional" and "unfitting."
The shooting down of the plane is one of the most serious clashes between a NATO member and Russia and is further complicating the international battle against ISIL militants.
"The documents we're working on will be about the introduction of restrictions and bans for Turkish structures in Russia," explained Dmitry Medvedev, Russian Prime Minister.
"Restrictions and bans on product imports, on the implementation of works and services provided by Turkish companies, and other restrictive measures."
Food from Turkey is among the goods earmarked for restrictions.
Moscow says it could also curtail a multi-billion euro nuclear power plant that it is building in Turkey and on a gas pipeline project.
Turkey's president says he has tried talking to his Russian counterpart Vladimir Putin, but had no response.
"At this point, there are some threats – 'joint projects may be halted, ties could be cut.' Are such approaches fitting for politicians?" asked Recep Tayyip Erdogan.
Russia insists its fighter jet never left Syrian air space, while Ankara says it crossed the border despite repeated warnings.