Still no power in Crimea as protesters block repairs to pylons
Comments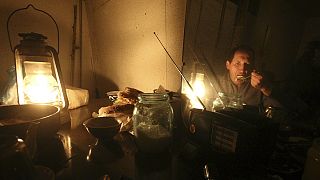 Crimeans continue to suffer from a lack of power as work to restore electricity supplies is hampered by protesters and a lack of political will to take them on.
Since last weekend when saboteurs downed pylons bringing electricity from Ukraine houses have been dark and public transport has been immobilised, Long queues of motorists have formed at the petrol stations still supplied with fuel.
Tatars and Ukranian nationalists are stopping repair crews from working on the pylons.
"Almost no petrol stations work in the city. Only two or three petrol stations work. Of course this is very difficult. But nevertheless, we stand firm, we have no other way out," said one motorist.
Crimea gets most of its power and water from Ukraine, which until now has maintained supplies despite the Russian occupation because of corruption and a desire not to inflict hardship on the civilian population.
But hardline critics of the Kyiv government were outraged that deals were being done by some with the enemy.