And also... #1in5Muslims; not quite terrorism; Russia's unlikely friendship
Comments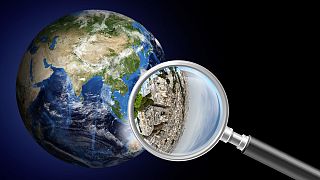 Every Friday, journalists from euronews' various language teams choose a selection of stories from Europe and beyond which might not have reached the international headlines…
UK: #1in5Muslims
Muslims have taken to Twitter to mock British tabloid The Sun after it printed a poll claiming "1in 5 Brit Muslims" has "sympathy for jihadis."
Many people criticised the polling methods and the way of interpreting the figures. But others decided to take another tack. In a dig at The Sun, people began tweeting made up facts about Muslims under the hashtag #1in5Muslims.
#1in5Muslims are lucky enough not to have a red squiggly line under their name in Microsoft Word

— Hamzah Moin (@hamzahmoin) November 24, 2015
#1in5Muslims think Netflix and chill means Netflix and chill.

— Areeb Ullah (@are_eb) November 23, 2015
#1in5muslims think Ross and Rachel were on a break

— ثناء (@LiberatedSoul_) November 23, 2015
#1in5Muslims use 'Inshallah' to politely avoid committing to any plan. (And it works.) "Wanna get coffee sometime?" "Sure, yeah, inshallah."

— Mehreen Kasana (@mehreenkasana) November 23, 2015
#1in5Muslims force their pets to wear modest Islamic clothing pic.twitter.com/Zen1T5q2eK

— _ (@sumaiyyahhh) November 23, 2015
#1in5Muslims are approximately 20% of the Muslim population, according to a recent poll.

— Hamzah Moin (@hamzahmoin) November 24, 2015
---
Russia: An unlikely friendship
In Vladivostok, in Russia's far east, a live goat was introduced into the enclosure of a safari park tiger.
Amur the tiger was, in theory, supposed to hunt and eat Timur the goat. However, things didn't quite pan out as expected…
Amur decided not to eat Timur. Instead the pair appear to have become friends. The goat now sleeps in the tiger's bed and Amur has been relegated to the roof of his hut.
Park keepers says they have no plans to separate the pair.
---
US: Changing the face of the migrant crisis
New York-based Georgia Lale is a Greek artist studying at the Basil and Elize Goulandris Foundation.
Her latest work, #OrangeVest, explores spaces around the Big Apple. She will walk around tourist hotspots and busy parts of the capital wearing an orange vest. As she does so, she becomes a performance artist, a protester and a messenger, portraying the tragedies happening in the Aegean Sea.
"##OrangeVest": A Greek Artist Wanders Around New York City Per ... https://t.co/X7J1cMp025#greece#New_Yorkpic.twitter.com/eGAbBAv9yU

— GreekIndependentNews (@greekreports) November 22, 2015
---
Hungary: Terrorists? Not quite…
Four men suspected of being terrorists have been accused of nothing more sinister than a shared enthusiasm for World War II.
A court in Hungary dismissed accusations of terrorism following the group's arrest for visiting the site of a wartime tank battle armed with old weapons they had found using a metal detector.
---
Germany: Refugee repays kindness
A photo of Syrian refugee Alex Assali has gone viral. He fled Damascus in 2007 to seek shelter in Germany.
Now he has been snapped preparing and handing out free hot meals to the homeless of Berlin, "to give something back to those who helped him."
---
Sources: