Turkey's NATO ambassador defends downing of Russian fighter jet
Comments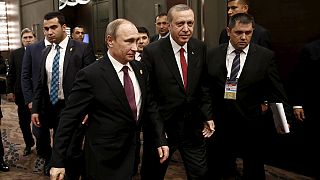 Tensions are running high between Ankara and Moscow after Turkey shot down a Russian fighter jet. To shed further light on the issue, euronews reporter Gülsüm Alan spoke to Mehmet Fatih Ceylan, Turkey's ambassador to Nato.
Before they entered our airspace they were warned 10 times, within 5 minutes not to enter our airspace.
Gülsüm Alan, euronews: "Russia's Foreign Minister Sergey Lavrov has described the incident as a planned provocation.
How do you react to that?
Mehmet Fatih Ceylan, Turkish Ambassador to NATO: "It is impossible to agree with the statement of Foreign Minister Lavrov. This is not a cold planned provocation by Turkey. Now let's see what happened yesterday.
"First and foremost I have to make it clear that this incident took place in our airspace. There were two planes, they were warned 10 times within 5 minutes, 10 times, not to enter into Turkish airspace but they did, and when they entered and violated our airspace, then they were engaged by our F16s that were on patrol duty there. One left our airspace, but the other remained in our airspace, then it was shot down in our airspace, and fell in the adjacent Syrian territory."
euronews: "17 seconds in Turkish airspace, is that really a reason to shot down a plane?"
MFC: "If you take into account the total length of their stay in our airspace, you have to multiply it by 4. So I mean if you just confine it to 17 seconds, that would be misleading, you have to multiply it, and taking into account that there was a second wave of violations, because in the first one they were warned, they left and they came back again in the second wave. And before they entered our airspace they were warned 10 times, within 5 minutes not to enter our airspace."
euronews: "President Putin says Turkey opens the way to radicalisation and buys petrol from Islamic State militants. What is your reaction?"
MFC: "That is his view. Whatever we do, we do it in cooperation and consultation with our allies. Back in July, we provided our allies with the facilities to fight against Daesh. Daesh is an imminent threat to Turkish national security and that was said on various occasions, many times, by all Turkish authorities. And don't forget Daesh also committed a terrorist attack in Turkey."
euronews: "Where are relations between Russia and Turkey heading?"
MFC: "I think that it is in the interest of both Turkey and Russia to address such issues in candid terms, and that is what we are doing on many issues, on a variety of issues. There is no unanimity on many issues, there are certainly different opinions but that has not impeded Turkey and Russia from contacting and exchanging views in a candid manner. So let's wait and see, let's address this issue, which is a serious issue by the way, and you know, try to reach a common ground on that."
Turkey military releases audio of "warnings' to downed Russian plane