Schäuble's 'refugee avalanche' remark whips up storm in Germany
Comments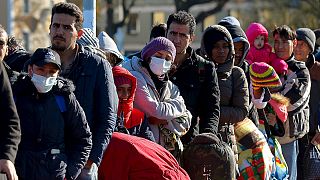 German finance minister Wolfgang Schäuble has caused a political storm by his comments on the migrant crisis.
In an apparent swipe at his boss Angela Merkel Schäuble said Germany may be facing "an avalanche" of refugees.
He said: "You can trigger avalanches when a rather careless skier goes on to the slope … and moves a bit of snow."

Schäuble: refugees like 'avalanche' triggered by 'careless skier' https://t.co/WHP2gKVWF9 via @EUractiv#EUpolpic.twitter.com/Qn3gLbsZMS

— EUwatch Info Hub (@EUWatchers) November 12, 2015
Twitter went into overdrive, Die Zeit tweeted: "Sharp criticism against Schäuble's avalanche remark."
German justice minister Heiko Maas claimed: "People in need are not a natural disaster. We should have a debate without pouring oil onto the fire."
Left wing, Die Linke MP
Bernd Riexinger, pulled no punches:
"Not an avalanche, but a boomerang of your ruthless politics."

Bleak future for Europe? Germany struggling to put out fires at home https://t.co/EuV1tjGp5e#Merkel#MigrantCrisispic.twitter.com/3oB8Phd0hG

— Sputnik (@SputnikInt) November 12, 2015
The crisis has caused Merkel's popularity to plummet and her refugees welcome policy is causing ructions within the ruling CDU/CSU coalition.
Merkel is also under fire from the traditional centre of German politics and the extreme-right, which continues to launch attacks on refugee shelters.

#Germany Another #refugee center burnt, 5 wounded. 200 attacks in first 6 months this year http://t.co/WudatBQYYHpic.twitter.com/qBQraMbXtl

— Guilhotina.info (@Guilhotinainfo) September 4, 2015