'Control regained' at controversial Christmas Island detention centre
Comments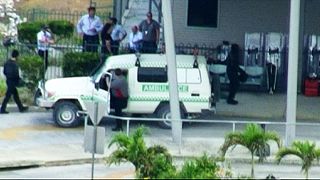 Australian authorities say they have regained control of the controversial Christmas Island detention centre.
Rioting broke out after an escaped Iranian Kurdish asylum seeker was found dead at the bottom of cliffs.
At least five people were injured and widespread damage caused.
On the island, detainees seeking political asylum, many of whom have fled from war-torn regions, are segregated from foreigners facing deportation for a variety of crimes.
Officials say those leading the unrest were detainees whose visas had been cancelled.
Immigration Minister Peter Dutton told the press:
"It is a hardened criminal population that occupies the immigration detention centre on Christmas Island and people who think that they can act outside of the law have another thing coming. Obviously investigations will now get underway in relation to the incident and we will look at those findings and deal with people appropriately".
Asylum seekers in the camp have often been intercepted en route for mainland Australia. The United Nations and human rights groups have criticised the government for its tough stance on immigration and for the harsh conditions at its offshore detention centres.