Palestinians shot dead as Israelis thwart knife attacks
Comments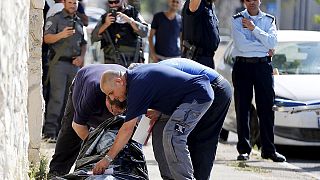 Israelis thwarted a number of attempted stabbings by Palestinians on Saturday in the West Bank and East Jerusalem.
In the first attack in a Jewish settlement in the West Bank city of Hebron, an armed Israeli civilian shot dead a Palestinian who had tried to stab him, Israel's army says.
Also near the West Bank city, a female border police officer shot dead a Palestinian woman who had stabbed her in the hand.
And in East Jerusalem police say a Palestinian was shot dead after trying to stab officers during an identity check.
There has been no let-up in violence since the start of the month with at least 39 Palestinians and seven Israelis killed.
Friday's emergency session of the United Nations Security Council has changed nothing.
Ending 'cycle of needless bloodshed' in #MiddleEast focus of emergency #UNSC session http://t.co/Xewb0YmhPlpic.twitter.com/VTkq8nHJrD

— UN News Centre (@UN_News_Centre) 16 Octobre 2015
Israel's Ambassador to the UN, Danny Danon, blamed the upsurge in attacks on 'How to Stab A Jew' posters he said were being distributed to Palestinian children.
But the unrest escalated amid rumours suggesting that Israel was planning changes to Jerusalem's al- Aqsa holy compound – a site of great importance to both Muslims and Jews.
With this in mind, the Palestinian envoy to the UN, Rizadh Mansour, urged intervention to end what he called "this aggression against our defenceless Palestinian people and against our shrines".
Israel says it is keeping the status quo at the site.
The United States has stepped up efforts to try to restore calm to the region.
Secretary of State John Kerry spoke by telephone with both Israeli Prime Minister Benjamin Netanyahu and Palestinian President Mahmoud Abbas to discuss ways to end the violence.
Kerry and Netanyahu will meet next week in Germany.
Netanyahu, Kerry to meet in Berlin, discuss ways to restore calm http://t.co/mYdNtifRKYpic.twitter.com/C7eP4FtLrL

— Haaretz.com (@haaretzcom) 16 Octobre 2015