UN calls emergency meeting amid escalating Middle East violence
Comments
By
Euronews
with
Reuters, United Nations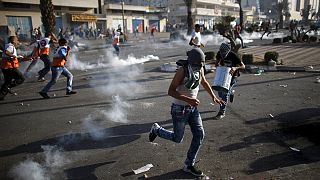 There appears to be no end in sight to the upsurge in violence engulfing the Middle East.
Fresh clashes in the West Bank and Gaza have killed at least three Palestinians, according to local reports.
Two people died as a result of confrontations with Israeli troops on the Gaza border.
A third was shot dead in the West Bank after he stabbed and injured an Israeli soldier, while posing as a journalist.
In the first half of October alone there have been near-daily stabbings of Israelis by Palestinians.
Danny Danon, Israel's Ambassador to the United Nations (UN), blamed the attacks on posters distributed to Palestinian children, which he says incite hatred of Jews.
"This picture you see here is an example of the kind of text that Palestinian children are being exposed to day in and day out," he said. "In school, after school. The pictures gives children elaborate instructions on how to stab a Jew. We talk a lot about incitement here in the U.N. You can see, with this picture, what incitement looks like."
At least seven Israelis and 37 Palestinians have died as a result of the spiralling violence in the region, prompting the UN Security Council to hold an emergency meeting on Friday, October 16.
The unrest escalated in September, 2015, when rumours emerged suggesting Israel was planning changes to Jerusalem's Al Aqsa compound. The holy site carries great importance to both Muslims and Jews.
Rizadh Mansour, the Palestinian envoy to the UN, referred to this, saying:
"We come to you today asking you to urgently intervene to end this aggression against our defenceless Palestinian people and against our shrines. They are subjected to violations by the Israeli military occupation and Israeli settlers and by extremists".
The UN welcomed Israeli assurances that it would not change the status quo at the site, but acknowledged the state's "heavy-handed approach" to security has played a role in escalating tensions.