Clashes, stabbings and shootings: violence escalates in Middle East
Comments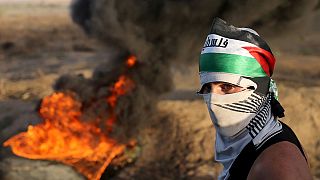 Clashes have erupted in the West Bank city of Ramallah, representing the latest incident in an escalating spiral of violence in the Middle East.
Palestinian masked protesters set tyres alight and hurled stones at Israeli troops.
They responded with tear gas, stun grenades and live ammunition.
Tensions have been mounting since September, 2015, when rumours emerged suggesting Israel was planning changes to Jerusalem's Al Aqsa holy compound. The site is of great importance to both Muslims and Jews.
Israel has consistently denied having any intention of changing the status quo at Al Aqsa.
But there has been no let-up in the violence.
Seven Israelis have died in near-daily stabbings and shootings at the hands of Palestinians. Dozens have been wounded.
At least 40 Palestinians have been killed, including the perpetrators of some of the attacks.
An emergency session of the United Nations Security Council on Friday (October 16) appears to have had little impact on the situation.