'Revenge stabbings' as Israeli-Palestinian violence escalates
Comments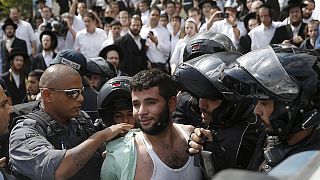 Four Arabs were stabbed and injured on Friday in southern Israel In an apparent revenge attack for a wave of stabbings by Palestinians targeting Israelis.
A Jewish suspect was arrested following the stabbings in the town of Dimona.
Police said the motive appeared to be 'nationalistic.'
Also on Friday, a Jewish teenager was stabbed in Jerusalem. Near Hebron, an Israeli policeman was stabbed by a Palestinian who was then shot dead.
Israeli Prime Minister Benjamin Netanyahu has condemned the violence, including the anti-Arab stabbings.
He warned on Thursday: "We will prove that terror doesn't pay and we will overcome it."
But already since last week four Israelis have been killed in attacks and three Palestinians shot dead and scores injured in clashes with security services.
Tension has intensified over access to Jerusalem's al Aqsa mosque complex, Islam's third holiest shrine which Jews also revere as the vestige of their two ancient temples.
On Friday, Ismaïl Haniyeh, the head of Hamas in Gaza, said he believes a new Intifida is already underway although not everyone thinks the situation has reached that stage yet.
There have been killings in Israel. But talk of a third intifada is premature http://t.co/GLODt0de9hpic.twitter.com/hFcsxlhnJb

— The Economist (@TheEconomist) October 9, 2015