Palestinians barred from visiting Jerusalem's Old City amid tension
Comments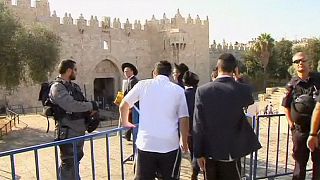 Palestinians are being barred from visiting Jerusalem's Old City amid a spate of deadly violence.
Only those living in the area are being allowed in. Israelis, schoolchildren and business owners also have access.
Thousands of police officers have been deployed, amid the heightened tensions.
Noor a-din Mohammad Biaa, a Jerusalem resident, said that it is a Jewish holiday and people are going to pray.
"I want to go and visit my parents' house and they're not allowing me to enter," he claimed.
He said that he lives in the Jerusalemn neighbourhood of Anatta.
Another Jerusalem resident, Mussa, added: "They didn't let me in because there is a lot of problems here in Jerusalem, because of the security situation. They do not let us get into the Old City."
A Palestinian is said to have stabbed an Israeli teenager early on Sunday before being shot dead by police. It came just hours after a similar assault killed two people in the city.
Last week an Israeli couple was shot dead in a suspected Palestinian attack in the West Bank.
Israeli Prime MInister Benjamin Netanyahu was due to convene an emergency meeting with security officials on Sunday and a security cabinet meeting on Monday.
Palestinian men under 50 are also being restricted from entering the al-Aqsa mosque for prayers.
Tensions have been inflamed by frequent clashes between Palestinian rock-throwers and Israeli security forces at the compound.
Palestinians have said they fear increasing visits by Jewish groups to the compound, revered by Jews as the site of Biblical temples, are eroding Muslim religious control there.
Israel has pledged to maintain Muslim prayer rights at al-Aqsa but, citing security concerns, has frequently banned young Muslim men from entering the area.