Russia 'launches 18 new air strikes' in Syria
Comments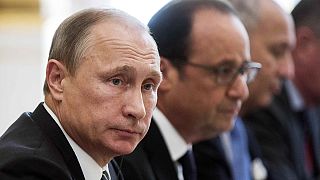 A new wave of Russian airstrikes in Syria has targeted the west and northwest of the country, according to a military source and state television.
Moscow began aerial raids against insurgents in Syria, including the self-proclaimed Islamic State or ISIL, on Wednesday (September 30).
Some 18 strikes are said to have been carried out since Thursday evening (October 1). A Syrian military source told Reuters they focussed on ISIL strongholds. However, some of the areas hit include provinces such as Idlib and Hama, where the jihadists have little or no presence.
Aleksander Baunov of the Moscow Carnegie Centre addressed objections by the West, which has suggested the Russian air campaign is a pretext to target rebel opponents of Syrian President and Russian ally Bashar al-Assad. Some of those opponents are backed by the CIA.
"For Russia it is a way to achieve several goals, one of which is to help an ally of course, it is the most discussed one. The other one is to overcome controversy with the West. If Russia is fighting against the Islamic State, a common enemy appears for Russia and the West."
The provinces targeted in the Thursday-Friday strikes include Hama, Idlib, Aleppo and Raqqa
Insurgents fighting in Idlib and Hama are largely allied with anti-Assad rebel groups. They also operate in the Russian-targeted Aleppo province, where ISIL has a base.