Russia defends Syria air strikes, adding US strategy is 'flawed'
Comments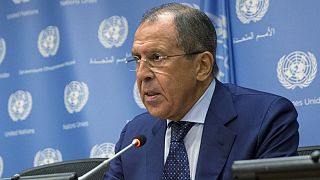 On the diplomatic front, Russia has mounted a firm defence of its air strikes in Syria.
President Vladimir Putin told a cabinet meeting that the action was legal under international law and fully supported by the Syrian government.
Sentiments echoed at the United Nations by his foreign minister Sergei Lavrov.
"The Russian Ministry of Defence presented a full report on what was hit and what was the targets. We targeted ISIL associated depots, armaments and sites. We would be coordinating with the Syrian army and that is, I think, commonplace, recognised everywhere that airstrikes alone will not solve the problem."
Lavrov also went on to say that the legal basis for US coalition air strikes was "really flawed."
Asked if Russia would become involved in raids over Iraq, Lavrov noted: "We were not invited, we were not asked, and we are polite people, as you know. We don't come if not invited."
While denying that the Free Syrian Army, backed by the US, was a target, Lavrov was clear that Russian pilots had a broad remit:
"If it acts like a terrorist, if it walks like a terrorist, if it fights like a terrorist, it's a terrorist, right?"