Turkey and US-led coalition urge Russia to stop air strikes on Syrian opposition
Comments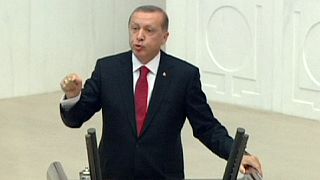 Turkey and its partners in the US-led coalition against ISIL on Friday (October 2) called on Russia to stop its air strikes on the Syrian opposition and focus on fighting Islamist militants.
In a joint statement with the United States, Britain, France, Germany, Qatar and Saudi Arabia, Turkey said Russia's actions constitute "a further escalation and will only fuel more extremism and radicalization."
Euronews asked the leader of Turkey's main opposition party, the CHP, whether it would support military action in Syria to fight ISIL.
Kemal Kılıçdaroğlu said: "If needed, there should be military operations, there are already some proposals for this. If it's needed to battle ISIL, the CHP will back a parliamentary resolution on the topic."
Ankara has bombarded ISIL targets but stopped short of sending troops to Syria. The neighbouring conflict has been a heated topic ahead of Turkey's general election next month.