Kerry and Lavrov discuss 'differences' over Syria
Comments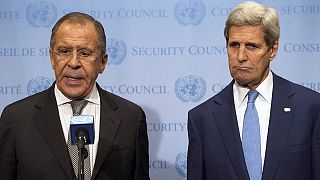 US and Russian foreign ministers have met to try and paper over the diplomatic cracks following the launch of Russia's air raids in Syria.
Washington is angry over the obvious dangers of uncoordinated parallel air campaigns and the fact they were only given one hours notice.
Both sides are claiming legitimacy for their own actions but differ over the role of Syria's president. (Russia wants their ally President Bashar al-Assad to be part of a political solution, the US sees him as a war criminal demands that he step down) .
Russian Foreign Minister Sergei Lavrov was a model of understatement.
"We agreed that the military should get into contact with each other very soon… We all want Syria democratic, united, secular — a Syria which is a home for all ethnic and confessional groups, whose rights are guaranteed, but we have some differences as for the details on how to get there."
For US Secretary of State John Kerry one of those details concerns Russia's targets – ISIL and possibly Syrian rebels?
"I relayed and reiterated the concerns that I expressed in the course of the U.N. Security Council meeting which was led by Russia today: concerns that we have about the nature of the targets, the type of targets, and the need for clarity with respect to them. And, it is one thing obviously to be targeting ISIL, we're concerned obviously if that is not what is happening," said Kerry.
Whether Russia is really trying to prop up ally President Bashar al Assad or not, analysts believe Syria's four-year civil war has entered a new volatile phase.