Pro-separatist bloc expected to win Catalonia vote
Comments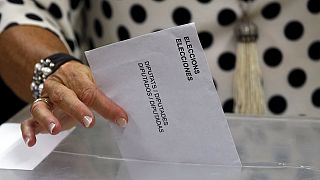 Pro-separatist parties are expected to win control of Catalonia's regional parliament after today's (September 27) election. They consider it a proxy-vote on independence from Spain.
But many of the five-and-a-half million voters said they did not believe the region would breakaway.
Head of the region's government Artur Mas said the only way forward was a split from Spain.
"Everybody knows this election to the Catalan Parliament goes beyond a normal vote. These are extraordinary elections because, in the end, they are about the future of Catalonia," said Mas.
Spain's central government in Madrid says secession is impossible and warns it will block in court any attempt to break away from Spain.
The country's interior minister Fernandez Díaz said "I just hope the parliament is going to be elected will be a cohesive chamber, an instrument to unify and not to divide."
A Spanish general election is planned to take place in December 2015. The Catalan vote may play an important role for whoever forms the next national government in Madrid.
Analysts say that depending on who that is, constitutional reform to recognise Catalonia as a nation within the Spanish state may even be on the cards.
Most experts and politicians say such talks would take time to organise.