Catalan election campaign ends ahead of Sunday's vote
Comments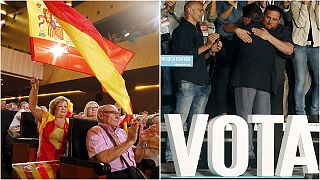 Campaigning has come to an end in the Spanish region of Catalonia ahead of Sunday's decisive elections.
Many consider the poll a proxy vote on breaking away from Spain.
The pro-independence coalition, which includes the Catalan president, Artur Mas, held a final rally in Barcelona with tens of thousands turning out.
"We will meet again at the ballots. And these ones are the ones which will lead us to economic prosperity, social justice, solidarity, equal opportunities for all," said Artur Mas, President of the autonomous region of Catalonia. "They will lead us to hope, to a common project, to dignity, and to freedom. Hurray Catalonia!"
If the bloc wins Sunday's vote, they have said they will start a process that will lead to a unilateral declaration of separation from Spain in 2017.
Meanwhile, the Spanish Prime Minister was joined by his party's candidate in the Catalan elections and former French President Nicolas Sarkozy at a final rally in Barcelona in a last ditch attempt to ask vote to cast their ballot for a unified Spain.
"Why don't they explain the truth to you?," asked Rajoy. "What would happen to the European Union? Who would pay the pensions? What would happen to your rights as a Spaniard and a European? Where would you export to, what would be exported? What would happen with custom duty? Who would pay the suppliers? Who would go to the markets? Why isn't that explained to the entire population?"
Madrid has repeatedly said it would use the country's constitutional court to block any attempt to create a Catalan state.
Westminster attempts to cover up documents about Catalan independence on the front page of ScotNational</a> <a href="https://twitter.com/hashtag/JuntsPelSi?src=hash">#JuntsPelSi</a> <a href="http://t.co/DSpEpHpHp8">pic.twitter.com/DSpEpHpHp8</a></p>&mdash; David McDonald (SNPdavid) September 25, 2015