By
Sarah Taylor
with
RAFAEL CERECEDA, MARIE JAMET, EL PAIS, AFP, ESPN
Sunday September 27 could mark the beginning of the end of Spain as we know it. The northeastern region of Catalonia will hold local elections, which
Sunday September 27 could mark the beginning of the end of Spain as we know it.
The northeastern region of Catalonia will hold local elections, which could set the ball rolling for full independence for the autonomous community.
Some five million people will go to the polls in what is being dubbed a proxy vote on secession from Spain.
Follow the results and reactions live
Secession support, or 'nonsense'?
Recent polls suggest pro-independence parties are heading for a narrow win. If so, the victory will be used as an indicator of support for secession.
Control of the regional parliament would give the secessionists authority to carry out a single mandate: to set the wheels of an 18-month plan in motion and initiate the creation of a new European state.
Catalonia's leftist President Artur Mas has said there will be a unilateral split from Spain, unless Madrid agrees to call a binding referendum on independence.
Spain's centre-right Prime Minister Mariano Rajoy fiercely opposes the idea of Catalan independence, which he has described as "nonsense".
Speaking ahead of la Diada – the Catalan national day – he said the region would never gain independence.
What does Spain stand to lose?
Catalonia is Spain's richest region and accounts for almost a fifth of the country's economic output.
Sunday's vote is expected to be the most decisive since the Catalans recovered their autonomous government – the Generalitat – in 1980.
It will also be the biggest challenge to the state model introduced in Spain in 1978 with the constitution. The model consolidated democracy in Spain and established the current system of autonomous regions, after almost 40 years of dictatorship.
Catalonia's status in the European Union would also be in question. Separation from Spain would mean separation from the EU. The new country would then have to go through the lengthy process of reapplying for membership and acceptance would not be guaranteed.
More important than football?
La Liga fans might disagree… Let's not forget, Spain's national sport is football.
FC Barcelona, currently in second place on goal difference in La Liga, could end up in the same position as Scotland's Celtic FC. Forced out of La Liga and into a new Catalonia version, Barca could end up playing in a league where they won every match without being challenged.
What's more, their TV revenue would likely plummet, meaning they would not be able to afford to buy or keep top players, or perform at the level they do currently.
Miguel Cardenal, the President of the Spanish Sports Council (CSD) issued the warning:
"Clubs' finances are decided by their TV revenues. In an independent Catalonia of eight million people, you could be a team based around a youth system like Ajax, Celtic, Standard [Liege], etc… and at most reach the last 16 or quarter-finals of the Champions League, for example."
He added:
"It seems a joke to me to be thinking about where the teams will play if independence happens, with all that is happening in this country. There are things more important than football."
While La Liga President Javier Tebas tweeted: "If Spain breaks, La Liga breaks."
How does the election system work?
Electors vote for a list of politicians in a party, rather than for the individual MP.
Seats are distributed proportionally by constituency, divided over the four Catalan provinces (Barcelona, Girona, Lleida, Tarragona).
The Catalan regional parliament has 135 seats: 85 for Barcelona; 18 for Tarragona, 17 for Girona and 15 for Lleida.
To win an overall majority, 68 seats are needed.
The main parties
Junts pel Sí (Together for Yes)
A coalition of key pro-independence parties, such as Esquerra Republicana de Catalunya (ERC) and Convèrgencia Democràtica de Catalunya (CDC).
Artur Mas features in the list headed by former Greens MEP, Raül Romeva.
[VÍDEO] Ja pots veure #JuntsHoPodemTot, la pel·lícula de @JuntsPelSí dirigida per Marc Recha! Sí, ho farem junts! RT https://t.co/QkknAjrmKi

— Junts pel Sí (@JuntsPelSi) September 9, 2015
Candidatura d'Unitat Popular (CUP) (Popular Unity)
A radical left-wing party, which is pushing for independence from Spain, the European Union and the Troika.
Its Presidential candidate is the journalist Antonio Baños.
"Que la CUP es farà enrere? La pressió per uns altres, de nosaltres no en pot dubtar ningú" https://t.co/y1iIucLfSY#27S#Governemnos

— CUP #Governemnos (@cupnacional) September 17, 2015
Catalunya Sí Que Es Pot (Catalonia Yes We Can)
A coalition of civil, social parties and organisations, which includes Podemos, leftist Esquerra Unida i Alternativa (EUiA), the Greens Iniciativa per Catalunya-Verds (IC-V) and Equo.
An anti-austerity collective, it is in favour of a referendum on independence, negotiated with Spain. Its leader is activist Luis Rabell.
Avui presentem les #5RdeRabell. 5 formes de demostrar que la rebel·lió és possible, i que la farem juntes pic.twitter.com/4pOp6reNgw

— CAT Sí que es Pot (@catsiqueespot) September 17, 2015
Ciutadans – Cs (Citizens)
A liberal party, its list covers a wide ideological spectrum.
It supports Catalonia as part of Spain, but proposes a reform on the region's autonomy. Nationwide, Citizens is in favour of the "democratic regeneration" of Spain and speaks out against corruption. It is headed by Inés Arrimadas.
.@InesArrimadas "Sortim a guanyar les eleccions, no pensem en pactes" @EFEnoticias#TourNaranjapic.twitter.com/mZOc8VhvO4

— Ciutadans (@CiutadansCs) September 17, 2015
Partit dels Socialistes de Catalunya – PSC (Socialist Party of Catalonia)
The Catalan Federation of the leftist PSOE, Spain's main opposition party.
It supports a federal model for Spain and constitutional reform.
Miquel Iceta heads the list.
Nova i vella política o bona i mala política? @miqueliceta ens ho resol aquí: https://t.co/UEEd0RUZaypic.twitter.com/smTfJa1Fnr

— Socialistes (PSC) (@socialistes_cat) September 16, 2015
Partido Popular de Catalunya – PP (Popular Party of Catalonia):
The ruling party nationwide.
Conservative, it is totally opposed to independence for Catalonia, seeing it as breaking apart Spain's unity. It supports redefining administrations.
Its candidate is ​​Xavier Garcia-Albiol.
UNIDOS GANAMOS, #PlantemosCarapic.twitter.com/Ntn60K0K0D

— PP Català (@PPCatalunya) September 11, 2015
Unió Democràtica de Catalunya – UDC (Democratic Union of Catalonia)
It broke with its historical ally CDC. UDC doesn't defend an independence process if carried out in defiance of Spanish laws.
At the head of its list is Ramón Espadaler.
VÍDEO | Entrevista a @Ramon_Espadaler a @elsmatins@tv3cat: som una proposta no rupturista feta des del catalanisme. http://t.co/WtAfbw7KyG

— Unió (@unio_cat) September 16, 2015
Which way does the outgoing parliament lean?
What do the polls say?
The Sociological Research Center's latest state-run poll suggests the left-wing Junts pel Si movement could win a narrow majority in the vote.
If Junts pel Sí wins, but without an overall majority, a coalition with CUP is "expected to give the group a narrow majority"http://www.euronews.com/2015/09/11/catalan-national-day-may-mark-start-of-road-to-independence-from-spain/ and enough seats needed to take power.
What next?
Nobody knows, even Mariano Rajoy, it would seem.
If Junts pel Sí wins an absolute majority (68 seats), the Catalan Generalitat (government) could make a solemn declaration to start the independence process. This would be officially communicated to the Spanish government, the European Union and the international community.
Known as "disengagement" from the Spanish state, the process would take around 18 months. Only then would the Catalan parliament be able to formally declare independence and begin to draft a constitution.
However, if Junts pel Si needs the support of the CUP, the scenario could change.
And if all the pro-independence lists combined don't get enough votes to form a government, Catalonia's post-election situation will be even more uncertain.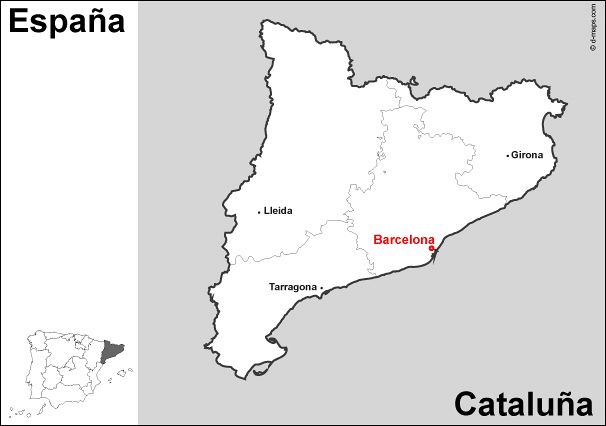 Catalonia

Population: 7,512,982(2014)
Unemployment: 20.22% (2nd quarter 2014)
GDP per person: 27,298.47 € (2013)
Surface area 32,108 square kilometres
Population density: 235.3 inhabitants/km2
University education: 175,752 students(2010)
Children per woman: 1,42 (2011)
Spain

Population: 46,507,760 (2014)17 autonomous communities (regions)
Unemployment: 24,7% (2nd quarter 2014)
GDP per person: 22,278.68 € (2013)
Surface area: 504,645 square kilometres
Population density: 93.2 inhabitants/km2
University education: 1,879,000 students(2010)
Children per woman: 1,36 (2011)
Sources : eurostat, INE, Idescat