Migrants cling onto hope at fenced off Hungary-Serbia border
Comments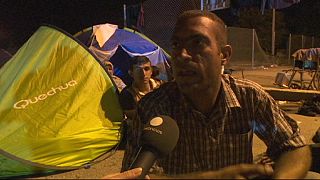 Hungary may have put up a razor wire fence along its border with Serbia, but it has not deterred some migrants.
Around 150 people remain around Horgos, on the Serbian side, in the hope they will cross over one day soon.
The area was the scene of clashes on Wednesday. Police used tear gas and and water cannons on hundreds of people who broke through the fence.
"We (want to) go to Hungary, but Hungary closed the door," said an Iraqi man.
A Pakistani man, who's been living in Turkey, added: "I'm waiting. More waiting and more waiting. (When the) gate (is) open, (I will) go to Hungary, after Germany."
Speaking from Horgos, euronews reporter Andrea Hajagos said: "Few people have stayed here at the Serbian-Hungarian border. But those here are waiting, sleeping in their tens – hoping that sooner or later they will be able to enter Hungary."