State of emergency declared: 23,000 displaced in California wildfires
Comments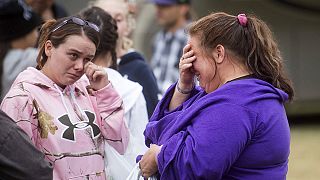 Around 23,000 people have been displaced and a state of emergency declared in California as wildfires rage in the north of the US state.
We have nothing, absolutely nothing. What can I tell you?
An elderly, disabled woman is known to have died as flames consumed her building when the fires erupted on Saturday (September 12).
Others, such David Clark, managed to flee. He spoke from a nearby evacuation centre, tents clearly visible in the background.
"My house burnt up in probably about 30 minutes. I lived on Hoberg south, which is basically where the fire originated from," he said. "We were at a soccer game, got home a little after 2pm. Our house was gone by three o'clock and we really don't have anything left."
CA's #ValleyFire has burned an area twice the size of San Francisco, still just 5% contained. http://t.co/rtbV5ODRippic.twitter.com/n7ami29NCU

— Eric Holthaus (@EricHolthaus) September 14, 2015
Janet Mondragon, from Middletown, showed an image of her house, apparently engulfed in flames.
"That's my house," she said. "That's my house right there. They won't let us up, now, they said, until Wednesday. We have nothing, absolutely nothing. What can I tell you? We are staying in a hotel in Santa Rosa, but we're going to have to start life over. There is nothing, absolutely nothing."
The so-called Valley Fire is being described as the most destructive to hit the west of the country this year.
Current footprint of the #ValleyFire superimposed on the Bay Area for size comparison. https://t.co/bj9hcpuJ5Mpic.twitter.com/BFgwqSs8qL

— Ken Norton (@kennethn) September 14, 2015
It quickly spread through the area north of the Napa County wine region, destroying at least 400 hundred homes and leaving some 9,000 structures in danger by Monday night (September 14).
Sadly, Harbin Hot Springs completely leveled. #ValleyFirepic.twitter.com/5Lz3lv4tHp

— Kurtis Alexander (@kurtisalexander) September 14, 2015