Japan floods leave three dead, and 23 missing
Comments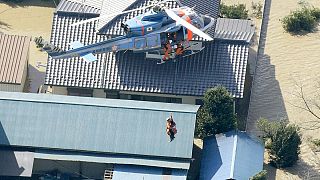 Rescue workers pluck people from homes in danger of being washed away.
Three have reportedly been killed and 23 are still missing after record rains forced rivers to burst their banks.
There appears to be no let up in the misery, with a severe rain warning remaining in effect for parts of northern Japan.
Though floodwaters were subsiding in the city of Joso, much of it remains underwater.
Aerial images revealed the extent of the damage wreaked when twice the usual amount of rain for September fell in just 48 hours. Those rescued by helicopter crews say the flooding was so quick, there was no time to escape.
→ #Japanfloods Japan floods Japan floods: Witnesses tell of fleeing rising waters AUShttp://t.co/vxYOzTQOK7pic.twitter.com/lRk5UTQf62

— Patricia Johnson (@johnspatricc) September 11, 2015
Fukushima prefecture, devastated by the 2011 tsunami, saw 30 centimeters of rain. The company operating the defunct reactors said it detected slightly tainted rainwater flowing out to the ocean earlier this week.
More than 100,000 were evacuated from Tochigi and Ibaraki, with many taken to temporary shelters, waiting for the waters to retreat.
Thousands of rescuers deployed as Japan floods kill three http://t.co/tSBD396kWfpic.twitter.com/sy7qEPW5C9

— Agence France-Presse (@AFP) September 11, 2015