Migrants: cruise ship docks near Athens
Comments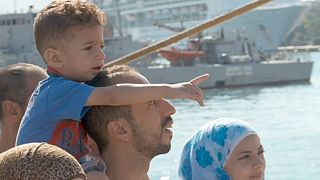 A cruise ship has brought hundreds of migrants from Syria to Europe's southern border.
Maybe we could go anywhere
Syrian refugee ship arrives on Greek mainland, migrants move on http://t.co/ZhgUzYtDTB

— Reuters Top News (@Reuters) August 20, 2015
The Venizelos has 2,500 people on board.
The vessel has brought them to Piraeus, the port of Athens, from the holiday island of Kos where they first came ashore.
Young, old, families and lone travellers alike, they say they are exhausted and frightened after fleeing the conflict in their country.
"Maybe we could go anywhere," one woman told reporters on the quayside, " but we don't know where. We will see which place will let us bring our family".
Speaking to reporters, one young woman described her flight from Syria:"We stayed in the woods for six hours and then the Turkish Army started to yell "get out of our country!" so after that we waited until nightfall so we could go to Turkey. Then they started to shooting into the sky. And then we left. I hurt my leg, my sister broke her leg".
Local authority buses were waiting to take the new arrivals to the nearest train station.
From there, many will attempt to reach northern Europe.
Euronews correspondent in Athens Panos Kitsikopolous says UN figures suggest more than 160 thousand migrants arrived in Greece during the first eight months of 2015. This is more than four times the total figure for 2014. Tens of thousands more are thought to be waiting along the Turkish coast. Greek authorities in the eastern Aegean region are urging the central government to assume its responsibilities and offer more help to tackle the problem."