Greeces moves migrants from Kos
Comments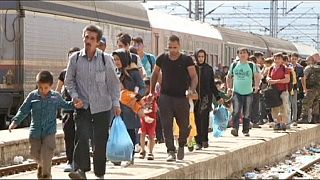 A ferry docked at the island of Kos has been used by Greek authorities to transport up to 2,500 migrants to the capital, Athens.
The ferry served as a temporary migrant screening centre.
Greece has seen record arrivals of migrants this year.
Most of them refugees from war-torn Syria, who enter by crossing the sea from Turkey.
On Wednesday, several Syrian were rescued by Turkish authorities after their boat capsized-
The survivors were later taken to the Turkish city of Bodrum, but six people drowned before rescuers could reach them.
Those who make it to Greece head north through the Balkans to wealthier northern European countries.
Hundreds daily try to board Serbia-bound trains at the Gevgelija railway station in Macedonia.
Clashes have sometimes flared as they scramble for a place on board.
From there, they head into Hungary, an EU member state, by paying traffickers several hundred euros to enter the country.
Many are racing to Hungary before completion of a four-meter (13-foot) high fence along its border with Serbia at the end of August.