China: Death toll mounts after massive explosion
Comments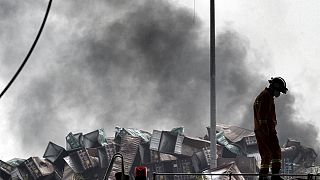 The authorities in China have ordered anyone living within a three kilometre radius of a massive explosion at a chemical plant to leave their homes
The official news agency Xinhua says it is over fears that chemical contamination is spreading. The explosion was so big it was visible from space.*
The team from the Chinese military are checking for toxic gases in the surrounding area in the north-eastern port city of Tianjin.
Tianjin : le bilan s'alourdit, les habitants de la zone des explosions évacués http://t.co/XYanXIXBRD Le Monde

— info75 (@encolere75) 15 Août 2015
What caused the explosion?
Officials quoted by the state news agency Xinhua say they are still not sure what caused the explosion, which was the equivalent of 24 tonnes of TNT exploding.
They say the extent of the damage makes it hard to identify which materials may have been present.
The government has ordered more stringent checks on dangerous chemicals nationwide.
Death toll mounts
It is now known the blast on Wednesday killed at least 85 people, including at least 21 firefighters – the biggest loss of live of emergency personnel since the founding of the People's Republic of China in 1949.
BREAKING: Man rescued 50 meters from #Tianjin blasts core area by anti-chemical warfare troops pic.twitter.com/I5P752PXnv

— China Xinhua News (@XHNews) 15 Août 2015
More than 700 people were injured; at least 25 of them are in a critical condition.
More than 6,000 local people have been forced to leave their homes and are currently staying in temporary shelters.