Nuclear and biochemical experts arrive at scene of Tianjin explosion
Comments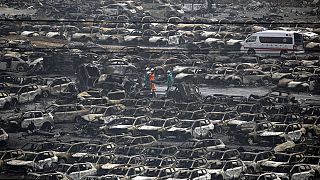 More than 200 military specialists have arrived in the Chinese port city of Tianjin where thick smoke lingers after huge explosions at a chemicals warehouse on Wednesday night.
China's state news agency Xinhua reports the nuclear and biochemical experts have tested the air around the site for toxic gases.
Witnesses described crumpled shipping containers thrown around like matchsticks and hundreds of new cars torched.
Our morning Daily Digest: Photo: #Tianjin aftermath & news from around the world https://t.co/fB8fq069Zm … pic.twitter.com/EVlpWHXAdZ

— reported.ly (@reportedly) August 13, 2015
So far, the death toll has climbed to at least 50 with more than seven hundred admitted to hospital.
A pungent smell has been reported in the air and people have complained of stinging eyes.
Clinical and psychological specialists from civil and military hospitals in Beijing have been dispatched to help the injured.
As the cause of the blast was being investigated, China's national health commission has called for blood supplies, medical instruments and drugs.
The blasts, so big that they were seen by satellites in space, sent shockwaves through apartment blocks kilometers away in the port city of 15 million people.
Firefighters among victims
The state-run Beijing News earlier cited Tianjin fire authorities as saying they had lost contact with 36 firefighters. By late afternoon, Xinhua reported 18 were missing, while 66 were among the hundreds of people being treated in nearby hospitals.
Xinhua said 1,000 firefighters and more than 140 fire engines were struggling to contain a blaze in a warehouse that held "dangerous goods."
"The volatility of the goods means the fire is especially unpredictable and dangerous to approach," Xinhua said.
Several fire trucks had been destroyed and nearby firefighters wept as they worked to extinguish flames, the Beijing News reported.
Chinese president Xi Jinping said that those responsible should be "severely handled."