Chinese investigators start Tianjin blast tests
Comments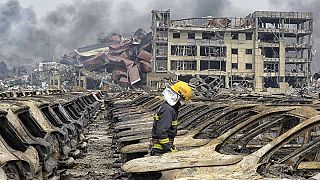 Some 200 Chinese investigators have started tests at the site of the chemical warehouse explosion in Tianjin.
The team from the Chinese military are checking for the presence of toxic gases in the surrounding area.
Officials quoted by the state news agency Xinhua said they are as yet uncertain as the cause of the explosion.
They said the extent of the damage made it hard to identify which materials may have been present.
The government has ordered tougher checks on dangerous chemicals nationwide.
The blast on Wednesday killed 55 people, including at least 21 firefighters.
More than 700 people were injured; at least 25 of them are in a critical condition.
More than 6,000 local people have been forced to leave their homes and are currently staying in temporary shelters.