Another blogger hacked to death in Bangladesh
Comments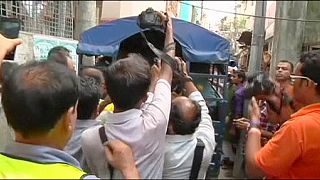 Religious extremists are again presumed to have hacked to death another blogger in Bangladesh, the fourth to be killed in this way, in their home, by men with machetes, in the last six months.
Niloy Chatterjee, who wrote about secularism, was killed in his flat in the capital, Dhaka. He had also written calling for justice for the killers of other writers like himself.
"He was the fourth consecutive blogger to be killed in five months so that's why we are protesting. We want justice, we have already lost four and we demand justice for the killings," said a spokesman for the Shahbag free speech movement.
Blogging took off in 2013 after a protest in Shahbag square gave unity and purpose to Bangladesh's growing human rights and open media community. They are scared at the rise of religious groups who want, for example, to install sharia law for the country's 160 million mostly Muslim population.