New Polish president sworn in and promises he'll make good his election word
Comments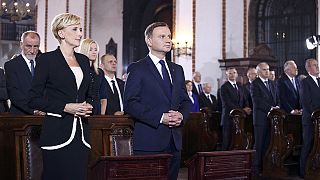 Poland's incoming President looks set to confirm a split at the top of the country if his swearing-in speech is an indicator.
In it Andrzej Duda reaffirmed his election promises to prioritise lowering unemployment and deepen Poland's ties with NATO.
But his party and policy statements will set him at loggerheads with the centrist Civic Platform government.
He is backed by the Law and Justice leading opposition party, and a parliamentary election is on the October horizon.
The 43-year-old lawyer styles himself on the late President Kaczyński whose brother Jaroslaw applauded every word.
He took a surprise victory against Civic Platform's incumbant, Bronislaw Komorowski by also promising to lower the retirement age, raising the tax-free income threshold, and creating child benefits.
However analysts say his plans for the troubled mortgage market could cost lenders billions of euros.