At least 20 killed as two trains derail in central India
Comments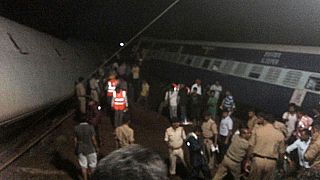 At least 20 people have been killed and 100 injured after two trains were swept off a bridge over a river in central India according to authorities.
It happened late Tuesday night in the state of Madhya Pradesh.
Divers using gas cutters pulled out passengers who were trapped in flooded coaches. By early Wednesday morning around 300 passengers had been rescued
Dozens were taken to hospital, many described as being in a critical condition.
The railway ministry said the two trains involved were the Kamayani express on its way from Mumbai to Varanasi, and the Janata express en route from Mumbai to Patna.
The flooding on the bridge was due to heavy monsoon rains that have caused over 100 deaths in recent days, many victims of landslides and collapsed buildings.