Dramatic footage of road collapse as deadly rain storms hit Asia
Comments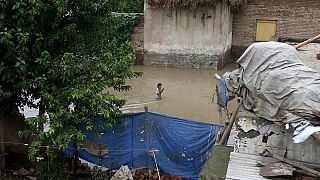 Deadly rainstorms are continuing to wreak havoc across Europe, washing away villages and roads and leaving scores of people in need of aid.
In China's northern Shanxi province, a road was washed away, taking three vehicles with it. No casualties were reported.
In the city of Xi'an, state media reported that at least eight people had been killed.
"It's horrible, really, It's horrible. I have never seen anything like this. At first, the torrent wasn't so strong. Then, later on, it swept away the house across the road in a few seconds," said one woman.
China is not alone, heavy rains are causing floods and landslides in several parts of Asia.
In Myanmar, weeks of relentless monsoon rains have left nearly 50 people dead.
The country is appealing for international aid: temporary shelters and clothing for hundreds of thousands of people who have had their lives turned upside down.
Almost a million acres of farmland, most of it rice paddy, has been damaged.
India is also suffering. Dozens of people have been killed and thousands are taking refuge in emergency camps in the east of the country.
Rivers have overflowed, inundating villages in parts of West Bengal, Odisha and Manipur states.
Bridges and roads have been swept away, making it difficult for rescue teams to get to those in need.