Appeal for international aid as floods kill hundreds in Myanmar and India
Comments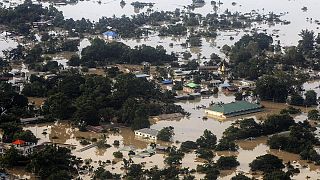 Myanmar is appealing for international aid after heavy floods that have killed at least 47 people.
Weeks of monsoon rains have left over 200 000 people in need of food, temporary shelter and clothing.
Four large areas in the west of the country have been declared disaster zones with many people still cut off by high waters and damaged roads.
"We didn't die because we moved out on to the hill because I have a baby", said Rakhine resident Ma Aye. "We have nothing left now. I don't even have a bra or a long skirt. There is nothing left."
It was a similar situation in eastern areas of India where at least 75 people have died and tens of thousands have had to take shelter in state-run relief camps.
Flash floods and landslides have submerged houses and shops.
A landslide at Manipur in West Bengal state killed 21 people.