MH17: wife of first officer given standing ovation after moving tribute to victims
Comments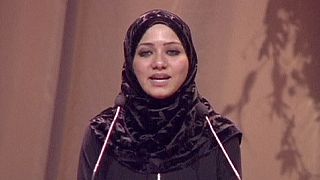 Family and friends of the victims of the Malaysia Airlines flight MH17 disaster arrived at a memorial service in the Netherlands clutching sunflowers; a poignant reminder of the bodies found in fields full of the yellow flowers after the plane was shot down en route from Amsterdam to Kuala Lumpur.
Asmaa Aljuned, the wife of the plane's first officer made an emotional speech, saying the bereaved were each travelling on "a whole different journey in its entirety. And for that my heart bleeds yet again."
She finishing with the words her husband had probably planned to utter if the plane had landed as expected,
"On behalf of Malaysia Airlines and the rest of the crew, we would like to thank you for flying with us. Thank you and have a nice day."
The Netherlands lost 193 of the 298 victims. A year to the day after the crash flags flew at half mast throughout the country and a minute's silence was observed at the exact time the plane lost contact with air traffic control.
Deeply moving ceremony today in Nieuwegein to commemorate victims of MH17. We remember in particular Edel Mahady. pic.twitter.com/U36DMx2x4K

— IrishEmbassyTheHague (@IRLEMBTHEHAGUE) July 17, 2015
Alle knuffels die op Schiphol lagen hangen nu aan een grote muur in Nieuwegein. #MH17pic.twitter.com/u9sHQUIFrT

— pascal.p (@_pascal_p_) July 17, 2015