MH17 new footage: rebels discover debris is from a civilian aircraft
Comments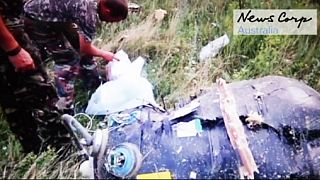 New footage has been made public of the immediate aftermath of the crash of Malaysian Airlines flight MH-17. The aircraft was shot down over Eastern Ukraine exactly a year ago, with the loss of 298 passengers and crew.
The 17-minute amateur video was obtained by media company News Corp Australia and has been posted on their website The company says it was filmed by separatist rebels at the crash site as they begin to realise the downed plane was a commercial aircraft.
It is suggested the footage features the voice of a unit commander, speaking Russian and Ukrainian, who has been told to look for the wreckage of a military jet and is shocked to find the debris is actually from a passenger aircraft.
Australia "sickened" by footage
Australia 'sickened' at purported new MH17 footage showing rebels rummaging through dead passengers' luggage – AFP</a> <a href="http://t.co/vdmfmpx10Q">http://t.co/vdmfmpx10Q</a></p>&mdash; Breaking News (BreakingNews) 17 Juillet 2015
Western governments believe russian-backed rebels shot the plane down at cruising altitude. Russia denies involvement and has suggested, along with separatists in the region, that it was brought down by a missile fired from a Ukrainian military jet. Kiev denies this.
It has also been suggested that MH-17 was shot down by rebels in the region, in a failed attempt to target a Ukrainian military plane.
News Corp Australia says it has handed the footage over to a multinational joint investigation team this week.